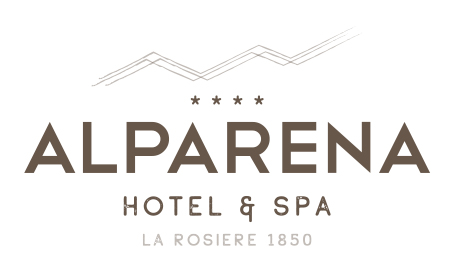 Telephone
+33 (0)3 84 86 15 51
Email
Adresse
Hôtel Alparena
Quartier de l'Averne
Les Eucherts – La Rosière
73700 MONTVALEZAN
Access by car
Directions:
Take the highway to Albertville and then follow the fast way to Moutiers.
Then take the National Road 90 up to Bourg Saint Maurice, then choose either :
– either RN90 in the direction of Col du Petit-Saint-Bernard (quick access)
– or village roads (touristic roads)
Distance between La Rosiere and major cities:
– Amsterdam : 1120 km
– Bruxelles : 920 km
– Francfort : 750 km
– Paris : 680 km
– Marseille : 430 km
– Lyon : 225 km
– Genève : 170 km
– Turin : 265 km
– Grenoble : 150 km
Through Col du Petit Saint-Bernard (closed in winter):
– Chamonix (tunnel du Mont-Blanc) : 1 h 15
– Courmayeur : 1 h
– Aoste : 1 hh
– Turin : 2 h
Note: Do not take the col indicated on the GPS as it is closed in winter.
Access by train
SNCF – Bourg Saint Maurice Terminus:
Tel.: +33 (0)8 92 35 35 35
Front page:  www.voyages-sncf.com
From Paris, Marseille, Lille, Bordeaux, possibility to arrive by TGV up to Chambery or Lyon then by TER up to Bourg Saint Maurice (terminus).
From Lyon : TER connection.
*In all cases, several connections Transfer by coach or taxis :
Coaches links from Bourg Saint Maurice railway station:
Martin – Tél: +33 (0)4 79 07 04 49 – www.altibus.com
Berard – www.autocars-berard.com
Airport nearby
For any departure from Paris, provincial cities and major European capitals :

– Lyon Saint-Exupéry International Airport:

Tel : +33 (0) 826 800 826 (0.15€/mn) or +33 (0)4 26 00 70 07 
www.lyon.aeroport.fr
– Geneva International Airport:

French call center
Tel : +41 22 717 71 11 
www.gva.ch
– Chambéry-Savoie Airport
Tel : + 33 (0)4 79 54 49 66 – Fax : + 33 (0)4 79 54 49 50 
www.chambery.aeroport.com
– Grenoble-Isère Airport
Tel : +33 (0)4 76 65 48 48 
www.grenoble-airport.com
Book your stay
Select your date of arrival, number of nights and number of occupants then launch the search. Staggered stay possible on some dates